Throughout the seasons, Adams County, has a wide variety of things for visitors to enjoy while they are in the area.  Please take a moment and look over the activities that are available in Adams County.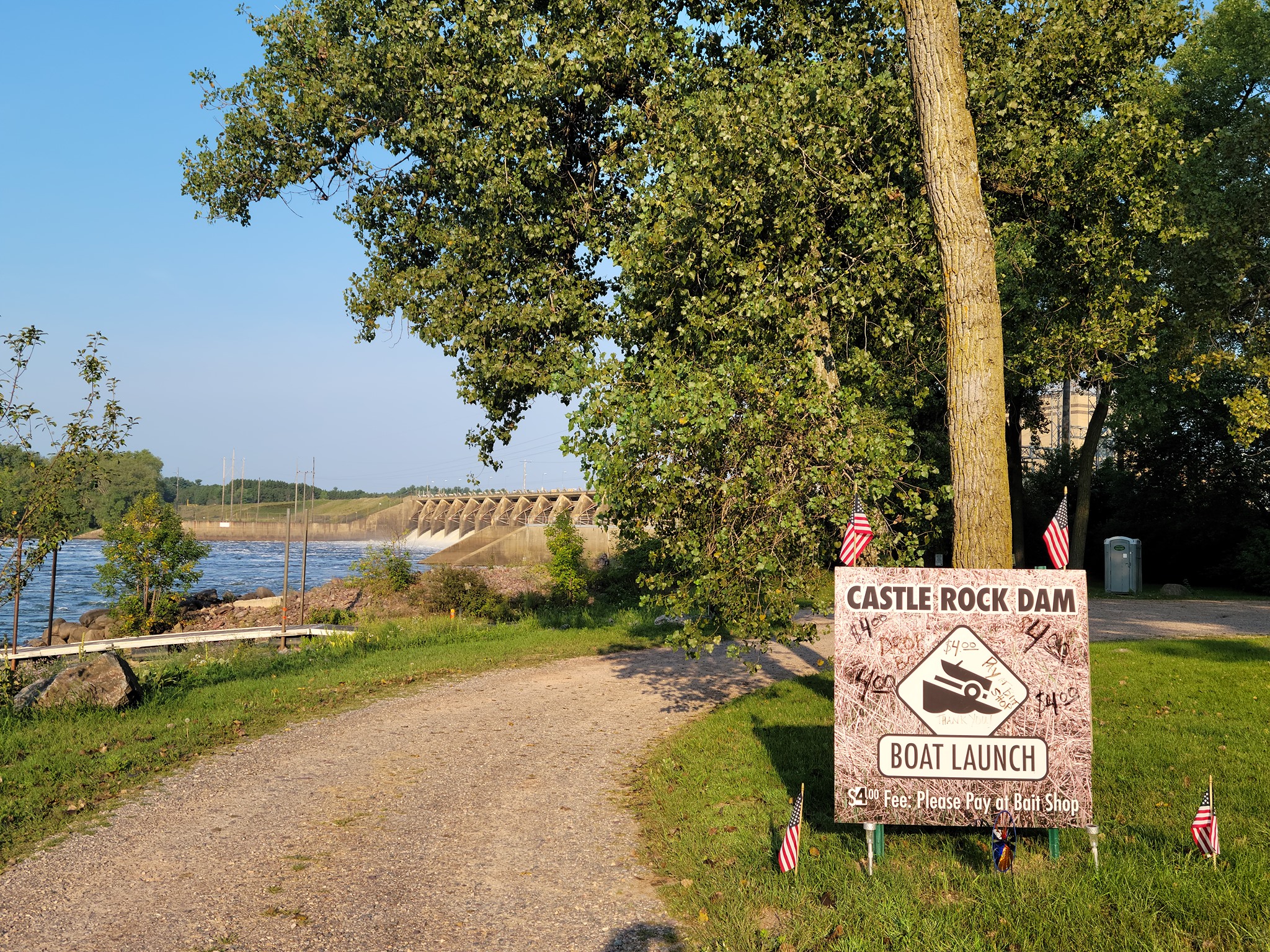 16,640 acres - 30' maximum depth
Game Fish: Walleye, Northern Pike, Bass, Panfish, & Musky
Two of the best-kept secrets in Wisconsin are Petenwell and Castle Rock Lakes, the second and fourth largest inland lakes in the state, together covering over sixty square miles.
In Adams County, the shores of Castle Rock Lake are dotted with public launch sites, and visitors can enjoy water skiing, swimming, sailing, and boating on its beautiful blue waters.  Spectacular sunsets await along the many miles of wooded shoreline where 25,000 acres remain in their natural state.  For the angler there are walleye, northern pike, bass and perch lurking just beneath the surface.
Started in 1947 and finished in 1951 by the Wisconsin River Power Company, Castle Rock Lake is Wisconsin's fourth largest lake.  It covers sixteen thousand acres, and has approximately sixty miles of shoreline.  The majority of shoreline is undeveloped making the lake "less populated" and ideal for boating and skiing.  The lake's depth varies from 8 to 20 feet in most places, with areas in the old river beds reaching as deep as 30 feet.  The structure created from the river beds makes Castle Rock a very productive and consistent fishing lake.  While walleyes, white bass, and crappies are the most abundant, many northern pike, largemouth bass, smallmouth bass and panfish are taken also.
Wisconsin River Power Company generates enough electricity at the Petenwell Dam during peak demand to light 40,000 homes.  Tours of the generating facility and spillway are available by calling 608-565-2217 for more information.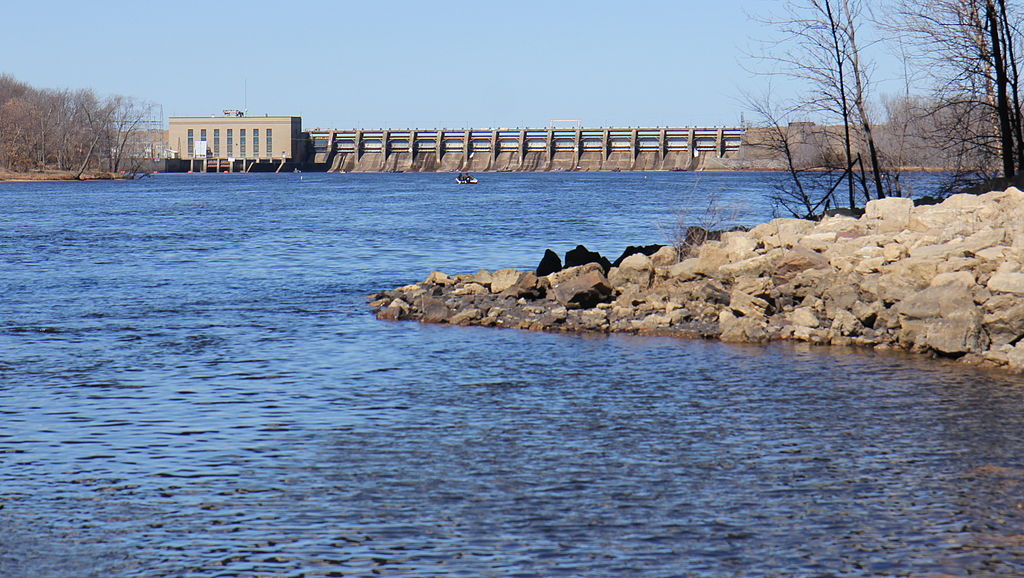 23,040 acres - 42' maximum depth
Game Fish: Walleye, Northern Pike, Bass, Panfish, & Musky
Lake Petenwell is Wisconsin's second largest lake at 23,040 acres or approximately 36 square miles.  It was created in 1948 by the Wisconsin River Power Company with the construction of a dam across the Wisconsin River near Necedah. 
It has a maximum depth of 42 feet and is excellent for skiing, sailing or fishing. Private lakefront property is very limited as most of the virgin shoreline is undeveloped forest.  Wildlife abounds, including one of the larger populations of wintering bald eagles in Wisconsin.
While the area is quite rural and unspoiled in flavor, its amenities are quite cosmopolitan.  It has excellent restaurants; community theatre; an 18-hole, par 72 golf course (originally rated among the top 75 public courses in the country) and a choice of two casinos within 30-40 minutes driving time.  The lake is located between Adams and Juneau Counties and is approx. 30 miles north of the Wisconsin Dells on State Highway 21.
Click Here for Fishing Reports for the Petenwell Lake (Flowage)
Click Here for Map of Petenwell Lake (Flowage)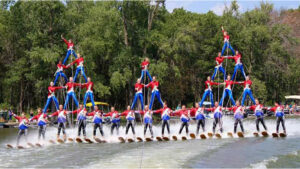 The Shermalot Show Team is a fifty member water-ski club which performs every Saturday evening from Memorial Day through Labor Day at 6:30 P.M., at the west end of Lake Arrowhead.
http://www.shermalotskiteam.com/
Lake Arrowhead is located in northern Adams County in the Town of Rome, a recreational community built around Lake Arrowhead, Lake Sherwood, and Lake Camelot.
Adams County has a thriving wildlife community, thanks to both sound management practices and minimized habitat encroachment.  A few once prevalent species have staged recent comebacks, most notably the wild turkey.
In addition to the rifle deer season in November, there are bow hunting and muzzleloader seasons, and seasons for waterfowl and other species.  All questions relating to season length and other regulations should be addressed to Department of Natural Resources personnel at the Friendship Ranger Station.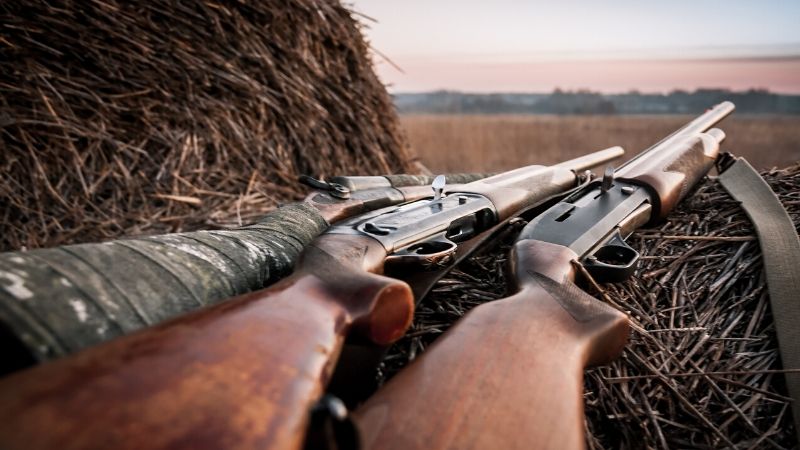 ADAMS (WCR)
DNR RANGER STATION

HWY 13 BOX 100
Friendship WI 53934
608-339-3385-Fire Control
608-339-8087-Fisheries
608-339-4819-Wildlife
608-339-2635-Law Enforcement
608-339-2717 Fax
ROCHE-A-CRI STATE PARK

1767 HWY 13
FRIENDSHIP WI 53934
608-339-6881 (summer)
608-565-2789 (winter)
Adams County has four excellent public golf courses with views unmatched anywhere in the Midwest.
Lake Arrowhead, in northern Adams County in the town of Rome, is the area's only 18-hole, par 72 course named "The Pines". It is rated by Golf Digest among the top 100 public golf courses in the nation. Lake Arrowhead has undergone an 18 hole expansion, "The Lakes" and has been completed by famous golf course architect, Ken Killian.
Mound View Golf Course is 9-hole par 36 course located on Highway J in Friendship. It offers club rentals, motorized carts, pro shop and a dining room which is open to the public.
Coldwater Canyon Golf Course is two miles north of the Dells on scenic River Road. Pine Crest Par 111 is a 9 hole course located just east of Wisconsin Dells on Highway 23.
Adams County is the home to a new Golf Course on Castle Rock Lake in the development of Northern Bay Resort.  Construction is ongoing and includes condominiums and homes on the lake and 18 hole Replica Hole Golf Course.
Horseback Riding Adams County has miles of excellent public horseback riding trails along the eastern shore of Castle Rock Lake on 25,000 acres of land owned by Wisconsin River Power Company.
There is also a private equestrian campground, Ukarydee in Arkdale, which is open year round and boasts fifteen large campsites, with electricity, running water, and toilet facilities.
The Wisconsin River was the canoe route for the Winnebago and Chippewa tribes and, later, the French voyagers.
In addition to the magnificent Wisconsin, there are a hundred miles of scenic streams and rivers in Adams County just waiting for you to dip in a paddle.
Several area establishments offer canoe rentals, as well as bait and all the supplies you will need on your own voyage.
Dyracuse Motorcycle Recreational Area
Dyracuse Motorcycle Recreational Area named after the prominent sandstone butte in northern Adams County offers over fourteen miles of trails in the 250 acre park, including ATV and off-road motorcycle tracks.  There are picnic grounds with grills and tables, a playground area, shelter house, lookout tower and hot and cold water restrooms.
ADAMS COUNTY PARKS AND TRAILS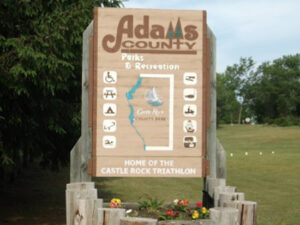 In Adams County both Adams and Friendship have town or village parks.  There are several township parks located throughout Adams County, each resting beside a sparkling lake; Lakes Camelot and Arrowhead in the town of Rome, Patrick Lake in New Chester, Lake Mason in Big Spring, and Easton Pond, near the town of Easton.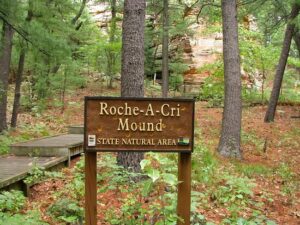 Centuries before it served as a natural landmark along French fur-trading routes, Roche-a-Cri Mound held significance for the area's earliest inhabitants.  The mysterious carvings in the bare rock of the south face bear witness to their passing.  The archaeological importance of these prehistoric art forms has earned Roche-a-Cri Mound its listing on the National Register of Historic Places.
The 300 foot castellated sandstone mesa, from which the park derives its name, was once an island in glacial Lake Wisconsin.  The summit, now accessible by a stairway of solid white-oak planks offers a breathtaking 120 mile panorama.
As intended the stairway has served to simultaneously improve public access to this natural monument while helping to protect the park's environmentally sensitive areas.
The varied terrains of the 425 acre park, designated a State Natural Area, include grasslands, open cliffs, pine barrens, oak forest, prairie, and the trout-rippled meanders of Carter Creek.
Roche-a-Cri State Park offers 42 wooded campsites with fire rings. One site is handicap accessible and 25 others are reservable. There are toilets, water, and picnic tables.  Firewood is available for sale. The park has four miles of marked hiking trails that also serve cross-country skiers during the fall and winter.  In any season, the spectacular scenery is unmatched in beauty.
Friends of the Park sponsors several events at Roche-a-Cri, including the Pumpkin Walk and Haunted Hayride, the Candlelight Ski/Walk, the Step-a-Thon, Open House, and various naturalist presentations designed to promote the use and appreciation of this extraordinary natural resource.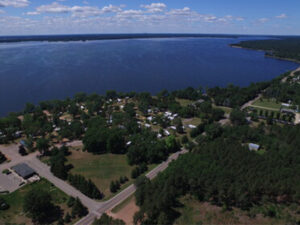 Castle Rock County Park features 141 acres with 200 camping sites on Wisconsin's fourth largest inland lake.  The facilities include modern showers and restrooms, with state-approved electric and hand pump wells, and a disposal station. 
There are 180 picnic tables throughout the park, designated lake swimming areas, a boat launch, timber-style playground equipment, and a marked hiking trail. Soda, ice, and firewood are available for sale.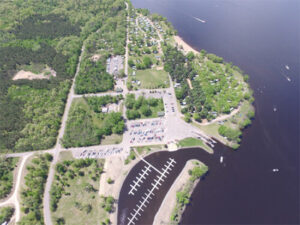 Petenwell County Park, located on Wisconsin's second largest body of water, features five hundred allowable campsites on 431 acres.  The park also features modern shower and restroom facilities, with both electric and hand pump wells. There is a shelter for public use, and a boat launch and designated swimming area on Petenwell Lake.
Additional park features include playground equipment, a game room, and marked hiking and cross-country skiing trails. Park concessions offer soda, ice, candy, and firewood.
Quincy Bluff and Wetlands Natural Area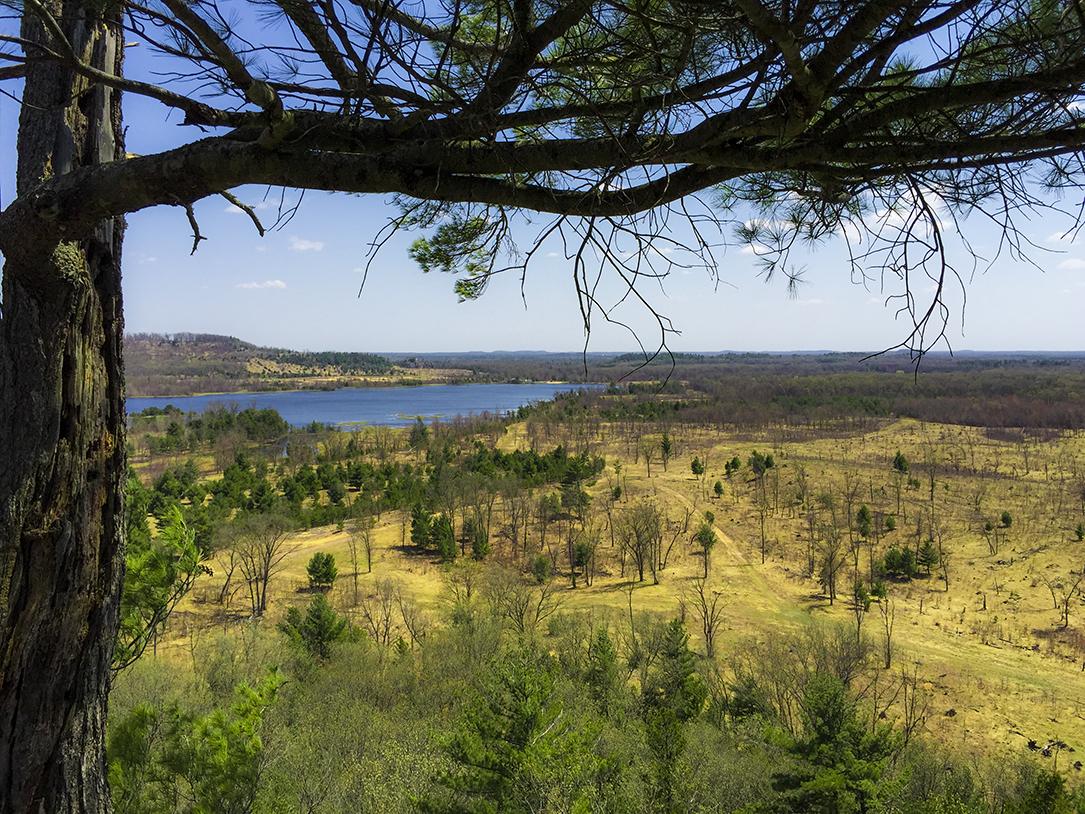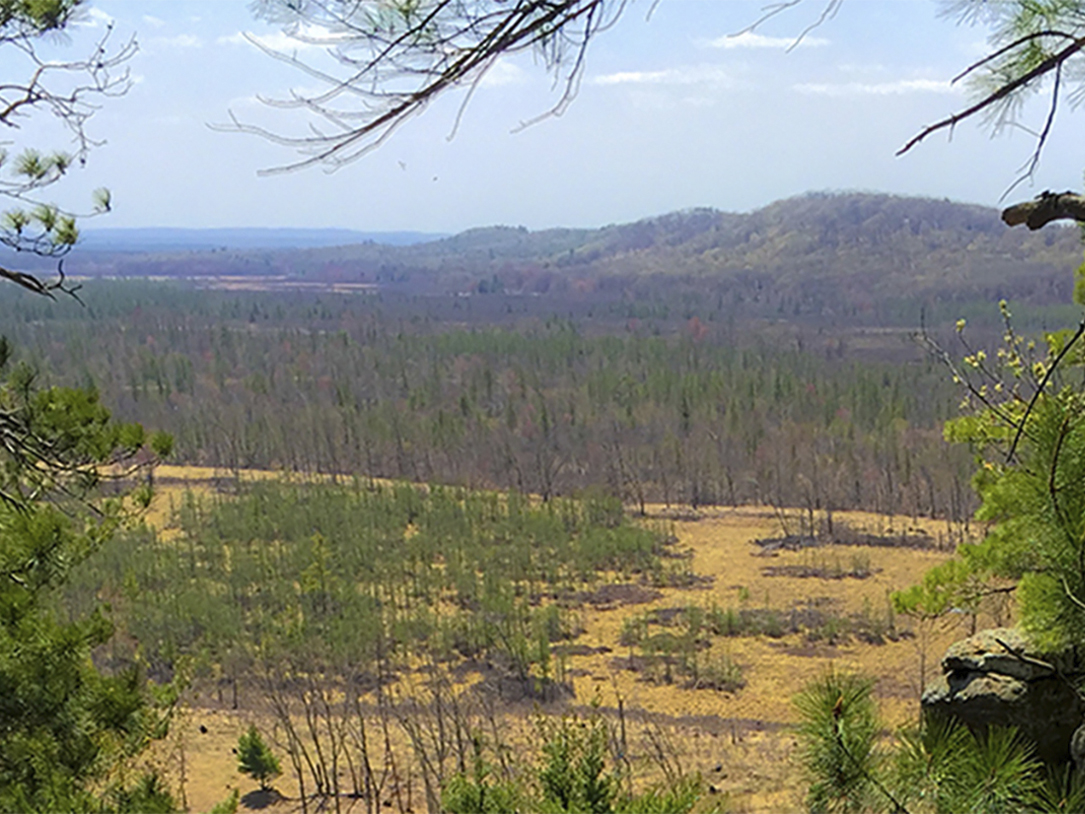 Quincy Bluff is located in what the first inhabitants called "the valley by Chicoongrah (window in the rock)." It is a unique 10,500 acre natural area jointly administered by the Wisconsin Chapter of The Nature Conservancy and the Wisconsin Department of Natural Resources.
It contains a vast wetland complex sandwiched between sandstone ridges and buttes such as Quincy Bluff, Loan Rock and Rattlesnake Mound. Extensive oak and pine barrens and northern dry forest boarder the preserve. Nine rare plant species and the very rare Karner Blue Butterfly make their homes within the boundries of this ecological treasure.
Quincy Bluff and Wetlands State Natural Area are located in Quincy Township of Adams County, Central Wisconsin and is part of the Central Sands Plains. There is a lot of wilderness with a couple key features like Quincy Bluff, plenty of Wisconsin Wildlife, Lone Rock and a view of Rattlesnake Mound.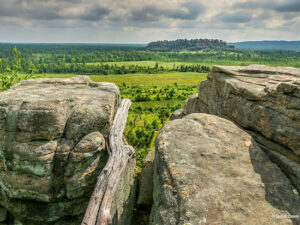 This public area allows hunting, fishing, wildlife viewing, edible foraging for mushrooms and berries, BUT NOT ALLOWED is camping,
vehicles, campfires and non-edible collecting like
rocks, fossils etc… It's also located not far from Castle Rock Lake, Castle Rock County Park, Wisconsin River and Solberg Silver Lake SNA which is also public land open to hunting. Quincy Bluff is about 200 feet in height, but it seems that Lone Rock is more popular for hikers.
Recreational activities such as hunting, fishing, trapping, birdwatching, and hiking are permitted so long as these are resources are not harmed.
Named after Gilbert Van Kuren, an early settler to the area, the Van Kuren Trail is located in the town of Strongs Prairie. Lake Van Kuren was a backwater of the main Wisconsin River Channel and was eventually inundated as a result of the construction of a dam and the creation of Petenwell Flowage in 1949.
The Van Kuren Trail is a 2.7 mile year round trail that meanders through rolling landscape, winding through stands of oak and pine, and affording views of wetlands and the 23,000 acre Petenwell Flowage. Quiet observers will see a variety of birds and other wildlife. 
Interpretive markers along the trail provide explanations of some of the unique features and near the midpoint, a shelter and fire ring is provided.  The Van Kuren Trail is located in western Adams County off Chicago Avenue in Strongs Prairie.